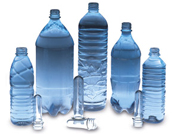 PSTCO aims to meet the ever-changing demand of all global customers through their wide-range products. Such products include PET performs, PET bottles, different kinds and sizes of closures for carbonated soft drinks, water etc. More than that, PSTCO has a great ability to hold any new challenging project in plastic packaging products .
PET PREFORMS:
PSTCO produces PET performs in many different sizes and designs that are suitable for all major carbonated soft drinks and mineral water bottles. The gamut is made of flexible and low weight type performs with some neck finishes as BPF and PCO for carbonated soft drinks, Obrist and 3 star High neck for mineral water according to international standards.
The most critical parameter is keeping the AA level [acetaldehyde level] of the perform at a low degree to avoid any taste tainting problems. R&D team at PSTCO has mastered in developing special inherent technique to match AA level as per the guidelines of FDA.
Closures :

PSTCO produces several kinds of water closures – one of these kinds is produced with 30-25 mm dia suitable for Obrist neck finish.
PSTCO successfully produces closures for Soft Drinks ,using the advanced Compression Molding Technology in the most ultra modern plant .PSTCO closure has two pieces with some features as – Leak proof sealing liner ,efficient Tamper Evident Band, good service finish at the top [ without injection point ] making it easy to take a multicolor print on it .Promotional printing can be used with all ease .